USQBC Co-Hosts Business Opportunities in Qatar Seminar on the Sidelines of 48th Annual CBC Legislative Conference
September 12, 2018 - Washington, DC: The US-Qatar Business Council co-hosted with the Qatar-America Institute (QAI), the National Association for the Advancement of Colored People (NAACP), the Congressional Black Caucus Institute, and Garrett Global, a seminar on doing business in Qatar on the sidelines of the 48th Annual Congressional Black Caucus Legislative Congress.
The event gave attendees an in-depth view of Qatar's economy, sectors of development, and how a US company can enter the market. Speakers included Ambassador Anne Patterson, President of the US-Qatar Business Council, Congressman Bennie Thompson (MS-2), Derrick Johnson, the President of the NAACP, Mohammed Barakat, Managing Director of the US-Qatar Business Council, Kamal Naji, Chief Project Officer with Qatar Financial Centre, Jotaka Eaddy, a Tech Executive, Brandon Garrett of Garrett Global, and Paul Hamill, Executive Director of the Qatar America Institute.
Ambassador Patterson focused on the opportunities for small and medium sized American businesses in Qatar outside the traditional areas of defense and energy, emphasized the rapid opening of Qatar's economy for outside investors and exporters, and noted that Qatar was investing heavily in innovation.
Congressman Thompson thanked the organizers for drawing such a vibrant and diverse group of companies. Congressman Thompsons remarks focused on his interest in finding specific opportunities for business owners, particularly in the African American community.
Mr. Barakat and Mr. Naji presented jointly on various aspects of Qatar's economy. The panel was moderated by the Council's Associate Director of Business Engagements, Mr. Max McGee.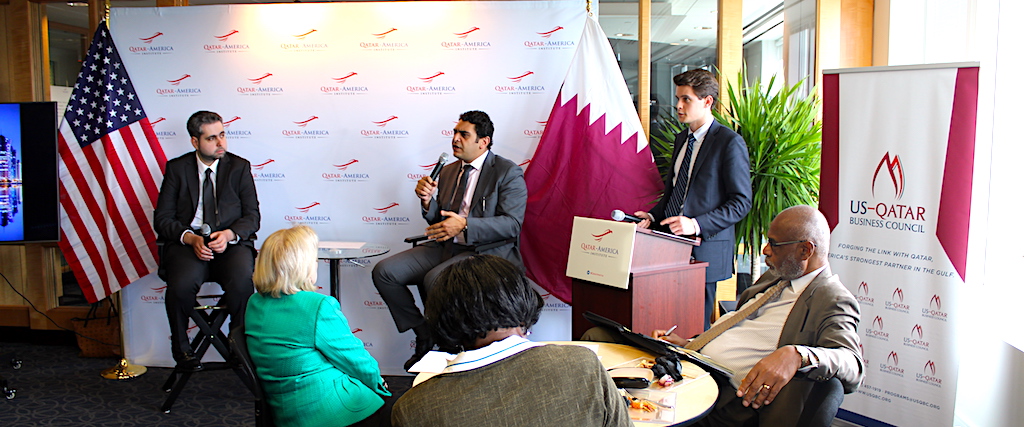 "Qatar's economy is growing at a rapid rate and there are boundless opportunities for American companies in various sectors. I would encourage everyone in this audience to explore opportunities in Qatar and to visit Qatar. The Business Council plays a critical role in supporting American companies and Qatari companies for trade," said Mr. Barakat. He particularly mentioned the need for mid-level service companies to support the 2022 FIFA World Cup and to assist with Qatar's rapidly modernizing infrastructure.
Mr. Naji discussed the role of Qatar Financial Centre as an ideal opportunity for foreign companies to incorporate under in Qatar. "Qatar Financial Centre was established in 2005 to attract financial institutions. We have some of the largest banks in the world set up in Qatar Financial Centre. In the last few years the scope was widened for permitted activities. It is no longer just financial services. We now have a wide range of professional services operating there. We have a lot of SME's and small companies," said Mr. Naji.
USQBC plans to host more webinars in seminars in the future to offer companies insight into specific business opportunities.
NAACP President Johnson discussed the significance of his trip to Qatar in March of 2018, co-coordinated by the US-Qatar Business Council. He applauded the support the community has received from Qatar and encouraged the audience to seriously consider opportunities for trade and investment with Qatar.
Jotaka Eaddy and Brandon Garrett spoke on a panel to discuss this trip that took place in March off 2018 with minority businessmen and women. Mr. Garrett highlighted the significance of medical research opportunities in Qatar emphasizing Qatar's interest in genetic research and research to enhance diabetes treatment. Ms. Eaddy discussed Qatar's rapidly developing IT sector, encouraging companies to seek business there and engage with organizations that support bilateral trade development.
Ms. Eaddy & Mr. Garrett also discussed the African American Qatar Working Group that will be established by the US-Qatar Business Council, comprised of members of the delegation that visited Qatar in March of 2018. The purpose of this working group is to develop some parameters for future Qatari investment in minority communities.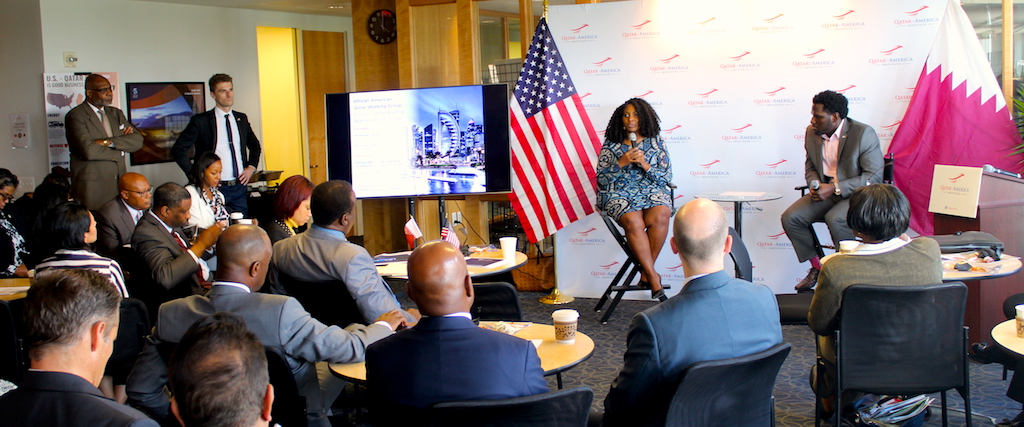 The two encouraged companies to submit comments to the working group via AAQWorkingGroup@usqbc.org. The Group will begin meeting in the coming months.
Paul Hamill closed the event thanking everyone for their participation and encouraging the audience to remember Qatar's significance to the US as a strategic partner in defense, education, and investment.